Okavango Delta, Savuti & Chobe River - May 2016
Botswana Photo Safari
Posted on 17th September, 2021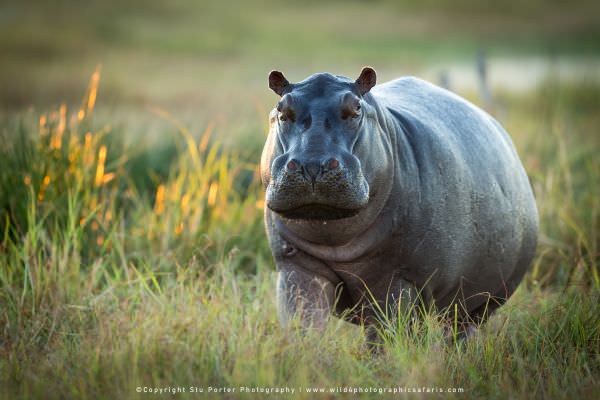 On this "Best of Botswana" 2016 Photo Safari, we noted the dryness of the Delta, compared with the fullness of the Chobe River; quite contrasting locations and very different from the 2015 trips.
Moremi Reserve, our first stop for 3 nights, provided two big male lions, a lion kill, great birdlife, a large herd of Cape Buffalo, Wattled Cranes and a very atmospheric visit to "Dead Tree Island".
Next venue was 4 nights in the Khwai Community Area where we were treated to a number of great leopard sightings including a young female leopard using a dead tree as her vantage point to watch Zebra. Hippo were busy in the early morning and we caught them as they re-entered the safety of the water. One night we were woken by an altercation between Cape Hunting Dogs and Spotted Hyaenas right behind our camp, in what seemed to be a contest over a kill we suspected the dogs had made. In the morning we caught up with the dogs and followed them for nearly 3 hours as they sought more prey. They soon settled down to avoid the heat of the day and we picked them up again in the late afternoon. Birdlife in Khwai was also very good
Our third stop on the trip was the special Savuti area in the Chobe Game Reserve. Here we were treated to a number of excellent sightings of both the Marsh and Harvey's Pan Lion prides. The Marsh Pride had downed a Cape Buffalo in a small waterhole and we watched the interesting behaviours of the males, females and two small cubs all trying to get their share of the carcass.
The Harvey's Pan Pride consisted of two adult females, 7 cubs and two males. We were treated to a fantastic photo opportunity as the Pride drank from a small pan, beautiful light and reflections too.
Camping life is always a special experience on the Botswana trips. The warmth of the crackling camp fires in the crisp night air, makes it even more enjoyable.
Our flight from Savuti to Kasane and the Chobe River was a quick 35 mins, followed after lunch, by our first afternoon boat ride in the special Pangolin Photo Boat. There was a lot more water in the river this year compared with last year, but the Chobe still offered great photo chances with Elephants, Hippos, Crocodile, Puku Antelope and of course the multitude of water birds found here. Our final morning was spent at the Yellow-billed Stork nesting colony, just starting to become active.
Thanks so much for another great safari, to Letaka Safaris and our excellent guides, Nkosi and Lucas, as well as the amazing camp team - T-Man, Mula and Banda.
Many thanks to Pangolin Photo Safaris and boat captain Shuur for yet another great stay at the river.
Finally thanks to all the participants in this "Best of Botswana" Photo Safari, CK, Pok Zin, Rita, John, Rob & Sue. It's a pleasure to travel with you and share some amazing sightings together.
Here are some photos from the trip - enjoy.
Best wishes, Stu.