Client Testimonials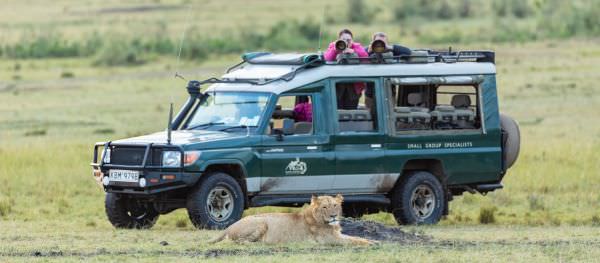 Marian Herz United States
The Botswana trip I just completed was my 4th with Wild4. They are by far the best safari company with which I've traveled. Everything starts with wonderful pre-trip information. Then comes the planning details, wonderfully handled by Justyna. The trips themselves are beyond imagination. Stu gives everyone a full bench, so that one can photograph from either side. His guides/ drivers (and Stu himself) are great spotters, encyclopedias of information about what we're seeing and they know how to position the vehicle for the best pictures. Staying in the mobile camp was a first for me. The tents were comfortable and the staff gave us a luxury experience and gourmet food. It was amazing to have wildlife just walking through the camp. Reactions to my photos from this trip have been spectacular. I know that when I travel with Stu, I will get great shots. He is also there to provide photo tips on how to best capture the wildlife and also the processing of your images. It was Stu's tip that finally allowed me to get that Lilac-breasted Roller takeoff. Thank you Stu, for great and well-organized trips. Anyone who wants the best safari experience and great photos needs to travel with Wild4. www.marianherz.zenfolio.com
Bud Ralston United States
I've been traveling the world and taking pictures since 1966. Several weeks ago, I was privileged to join Stu Porter and Mamai John of Wild 4 African Photo Safaris in Kenya for eight days of the great migration. As expert photographers, they lined me up for the best angle, lighting, and vantage point available on EVERY shot! They are experts in the zoology of the area, knowing every bird and mammal, their behaviors, estrus cycles, life spans, etc. Mention the desired photo opportunity, and they will take you to it. Camp Entim is a priceless jewel. The lodge, restaurant, and individual tents all have views overlooking the Mara River. The "tents" were more excellent than most five-star hotel rooms. The food here was Michelin Three Star quality. Being a fussy eater, I've learned not to expect much, especially from remote locations. Was I wrong. I ate every bite of every meal, unfortunately gaining the accompanying weight. Worth every bite! The service was exceptional. I would go back there again just for the hedonistic pleasure of the visit. Stu Porter and Mamai John are class acts. They provide the best possible photographic experience to their clients. When I return to Africa, I will only look to them and Wild 4 Africa Photo Safaris to arrange my trip. Bud Ralston
Madhumita Bishnu India
I did my first safari outside Indie and I started with Masai Mara in Kenya led by Stu & Mamai. An exceptional safari it was with thorough knowledge of the animal world by Stu, ensuring that proper lighting due to strategic location for best photography was there. Mamai ensured that the jeep stopped at the exact place where I could get the best photographs. The landscape was beautiful and the animals were equally majestic. I got to see BIG 5 which I learnt in this trip and I'm extremely thankful to Stu for the sightings. Very well thought out, professionally conducted was the safari. Stu shared on photography tips and animals characteristics too. I look forward to joining on another safari in not so distant future. Thank you Stu & Mamai
Slim & Barbara Callaghan UK
Any aspiring photographer looking for a wildlife safari should go with Stu and Justyna Porter at Wild4. You will be guided by a graduate professional photographer who is also a highly-qualified South African field guide.
Stu's knowledge of photography and understanding of African wildlife is exceptional. He is also blessed with an amazing spotter's eyesight. Each day his talents are passed on with sincerity and quiet enthusiasm. Nothing is ever too much trouble and his positioning of the vehicle for the best light and animal profile is always his first consideration.
Any successful safari relies on a good backup team. This family company is most ably supported by Stu's wife Justyna who is the drive behind the scenes and efficiently arranges the accommodation and all the logistics.
This trip was most rewarding in both personal and photographic terms and one of the best we have ever enjoyed. Sincere thanks to you all.
George Cathcart USA
Wild4's photo safari to Botswana featured two expert guides, Stu Porter and Nkosi Sibanda and the abundant wildlife of four different Botswanan hot spots. Those features alone are worth the price of admission, particularly since they include vehicle modifications that ensure the best possible photographic experience.
We spent the first ten nights in expedition-style mobile camps, "roughing it" with bucket showers and drop toilets and listening to the leopards, elephants and hyenas wandering in and around the camp at night. However, the expert staff made "roughing it" a pleasure, preparing perfect meals, including fresh-baked bread and cakes and ensuring that the camp was safe and clean.
We finished the 12-night trip in a luxury lodge on the Chobe River, where we photographed from a boat customised to accommodate serious photographers, in a waterway full of hippos and elephants and lined with Africa's most iconic birds.
If you can only go once to Africa, go to Botswana with Wild4 Photographic Safaris. They will take care of every detail of your safari. If you are an old Africa veteran, ditto. You just can't go wrong with Wild4.
Colleen Sullivan USA
Wild4 Photo Safari gave me much more than an average safari tour. The experiences, friends, and information gathered from my trip will stay with me forever. My anticipations were greatly exceeded, beyond anything I could ever have dreamed of. I Love Wild4!!
John & Lorraine Carnemolla AUSTRALIA
This was our second trip with Stu and our first in Tanzania. The sightings exceeded all our expectations. One of many highlights was seeing 22 lions drinking at a stream in the Ngorongoro crater.
The accommodation was once again first class, even the tented camps.
Stu, together with our local guides, James and Jeremiah, always managed to have the vehicle in exactly the right position for the best pictures. Can't wait to go again.
Stephen Tattersall UK
This was the second trip with Wild4 and one of the most memorable and pleasurable I have ever been on.
We were blessed with incredible sightings, from a frenzy of feeding wild dog to fighting black mambas. The memories will linger forever through some great images shot from customised vehicles driven by expert drivers.
The camps chosen were great and there was a real and genuine feeling of being a part of your surroundings. A truly African experience. From the bush to the Chobe River and the specially adapted photographic boats, we could not have asked for more.
I must extend an enormous thank you to you Stu, for your endless patience and professionalism. Also a big thank you to Justyna who's meticulous planning ensured a seamless trip. Good job!
Rita Daubeney UK
Thank you so much for the best safari I have ever been on and for your tremendous help with both the photography and Lightroom.
I now understand more about both than I ever have. Everything was brilliant.
We were extraordinarily lucky with what we saw and my greatly improved technique means I will have memories that will last forever.
Your Wild4 attention to detail means that things run smoothly in a part of the world not always known for that.
I really can't thank you and Justyna enough.
Murray Richards AUSTRALIA
This was my 3rd memorable trip with Wild 4. The wildlife in Tanzania put on a show for us from dawn till dusk. Cheetah's, lion prides, leopards, the birth of a gazelle and zebra. Migrating herds of wildebeest and zebra's - this trip had it all!
Superb locations, great accommodation, amazing food and unique scenery. I'll definitely be going back with Wild4!
What sets Wild4 apart is their attention to detail to support photographers and videographers. Small groups, well-selected locations, high-quality camps/lodges and well-trained guides makes for a very well organised and intimate photographic safari experience.
They provide not just a beanbag, but a beanbag 'system' for each photographer! They provide panning plates, and photographic platforms designed by an experienced wildlife photographer. The Wild4 team understand the needs of photographers on safari.
I can't recommend them highly enough for your African wildlife photographic experience.
Larry Jackson USA
First introduced to Wild4 by a friend, we have now been on 5 trips. Stu is the ultimate professional guide offering a terrific experience wherever he takes us.
He shares his extensive knowledge of photography, making it possible to get better photos and make the most of each photographic opportunity. It takes special qualities to guide photographers around Africa, keep them comfortable, provide the best photo locations at the best time of the day, manage the schedules, vehicles, drivers, flights and food and still remain calmly in control.
He is supported well by Justyna in the office and we anticipate travelling more with Wild4 in the future.
You should book a trip with him as soon as you can!
Dan Dimaggio USA
Stu ... Cannot say enough great things about Wild4. The entire Porter family is #1 in my book. I shall recommend you to friends as often as possible.
You made my trip the very best and one that I'll always remember.
Thanks again.
Ulhas Mayekar USA
I have always dreamed of taking a photo safari to Africa but had a disappointing first attempt last year. The urge was still there, so after some more research, I came upon Wild4 African Photo Safaris. I was excited that this time I would really get the experience I was hoping for, and it did not fail.
The pre-tour information left me well informed. I could already tell that this would be an adventure of a lifetime. On safari, Stu's knowledge continued to surprise me. Not only does he know about photography, but his familiarity with the animals and their environment is unbelievable. This meant he never let us miss an opportunity. Stu was patient and informative. His tips will help with all of my future photography endeavours.
This Wild4 Safari went above and beyond all of my expectations. It really was a dream come true.
Bastian & Matthias Freund USA
We enjoyed the Migration photo safari very much and were blessed to see so many crossings and animals in such a short period of time.
The safari was well organized, all accommodations were first class and the food was certainly a nice surprise considering we were in the wilderness! Our guides took good care of us and were one reason that we saw such varied and exciting wildlife. You picked a great support team for this safari!
Bastian and I learned a lot of new photo techniques, which we will use in the future to improve our photographic results. Bastian for sure got hooked on time-lapse. Thanks to you and all your preparation, your guidance and support, this was a once in a lifetime experience. Our photographs will always remind us of you and the great time we spent together.
Thank you!
Del Hunter UK
I've recently returned from a "Wild 4 Photo Safari" and can recommend them without reservation. Their skill, professionalism and expertise is excelled only by the standard of excellence shown in every aspect of the trip.
From the logistics to the accommodation, the food to the transportation, their inside knowledge of African wildlife to their passion for what they do, every aspect SUPERB!!
If you are looking for the ultimate "Photo Safari", this is it!
I will definitely book again!!!
David Austwick UK
On arrival, we were treated as part of the family by the Wild4 Team. We had everything we needed for the task – a specially equipped "Hide on Wheels", a dedicated and professional approach to photography and plenty of time.
The initial sighting would be accompanied by the excited, rapid firing of shutters, but then we would settle and wait as long as necessary in the hope of getting something different. Stu's awareness of animal behaviour and camera settings was very useful in planning our shots.
His knowledge of African wildlife and skill as a wildlife photographer is second to none, and I have learned a lot from his expertise. I am delighted with my photos!!
This was the trip of a lifetime, good accommodation, delicious food and great company. It was altogether a wonderful, challenging and thrilling experience and, if you are looking for a photo safari in Africa, contact Stu Porter at Wild4.
Malcolm UK
This was simply an outstanding photographic safari all round – by far the best that I have been on! As a keen enthusiast photographer, looking to step up a level and enter 2 competitions later in the year, I could not have hoped for more. Excellent!
The Wild4 team is very well organized and their prompt and helpful responses to queries pre-trip ensured they were easy and a pleasure to deal with.
Stu Porter can pitch his photographic tuition at any level and his attention to detail and enthusiasm was spot on throughout this trip. Already comfortable with my own photo technique, I was surprised by just how much I learned. I have easily adopted his full-on manual approach, every bit of which he was able to justify - a revelation! I am quite picky, but I cannot praise these guys enough and I will be back.
Very many thanks to the whole team.
Andrew Oliver CANADA
For thirty-five years I have dreamed of going on a photographic safari in South Africa. I have finally realised that dream and my hopes and expectations were surpassed in every way.
I researched extensively before settling on Wild4 Photo Safaris. What an inspired choice that was! This family company provides the perfect safari experience for photographers of every skill level.
Stu is a fine wild-life photographer and a first-class teacher. His knowledge of the habitat and habits of the animals and birds to be found in Kruger National Park is simply encyclopaedic. My 25-year-old daughter and I eagerly adapted to the early morning wake-up call, to go off into the wilds in one of Stu's specially fitted jeeps, to catch the sunrise.
Every day brought its special moments and we returned home with thousands of photos to sort through and cherish for the memories they'll bring back.
A safari with Wild 4 is a photographic experience with a master photographer, an initiation into the wonders of South African wildlife and spectacular landscapes - and an experience of friendship as everyone aboard the jeep bonds in common purpose.
Everything about Wild 4 is first class. The organization is superb, accommodations excellent, choices of locale perfect. Our safari with Stu and Wild4 was truly the experience of a lifetime.
Neil Stewart UK
Stu, your excellent tuition lifted my photographic skills to greater heights by introducing me to additional techniques and making me work with my camera to achieve extremely pleasing results.
I must also compliment you on the organisation of the trip. The logistics were seamless, the food and staff excellent and without exception, every game drive provided great animal encounters, allowing us to put into practice our new found skills.
Once again, many, many thanks for a wonderful trip.
Sue Green UK
Many thanks to Wild4 for a truly memorable trip. Stu's guidance and photography skills provided excellent opportunities to get some great shots. His professionalism and commitment made the safari 'special'. Having only 3 photographers per vehicle made an incredible difference and there was plenty of time to shoot - or just watch.
The accommodations and meals were excellent. Many thanks to Justyna for her wonderful help on the admin side, making my booking a dream.
I have been on trips before but none quite so enjoyable as this one.
Would I go again? Would I recommend to friends? Without a doubt, a big YES to both!!
Sincere thanks again to you all.
Greg Morgan UK
The Wild4 team made my trip to South Africa a truly memorable experience. Stu's tuition on techniques, composition and familiarity with your gear was the foundation for the rest of the trip.
We had some wonderful sightings - highlighted by spending time with a leopard cub in a tree no more than 30 metres away and watching a pride of 14 lions stalking a herd of zebra for more than an hour - just wonderful experiences! The quality of my shots was infinitely better than on a regular safari, as the whole focus is expertly designed to maximise photographic opportunities.
Stu's knowledge, enthusiasm and patience were boundless, and Ann's spotting and catering skills were priceless! I hope to visit Africa again soon, and without a doubt Wild4 will be my first option.
Maureen & Trevor Lovegrove UK
From the moment we contacted Wild4 we were impressed with the prompt, friendly, enthusiastic way our queries were answered by Justyna. Nothing was too much trouble.
Stu is a passionate wildlife photographer eager to pass on skills, ideas, techniques and information.
The wildlife sightings were awesome, amazing, exciting - just a few words that come to mind.
We have had many safaris in various countries but this surpassed them all.
The only decision now is not if, but when we return.
George Cathcart USA
Shopping for a travel adventure on the Web is somewhat risky, but finally, I picked Wild4 Photographic Safaris for one reason: the vehicle!
It was obvious that this was an outfit that understood photographic details and the needs of serious wildlife photographers. The vehicle takes just three photographers and features platforms to steady big lenses on both sides of the vehicle and loads of storage space and pockets for lenses, bodies, accessories, binoculars, field guides, water, etc., I can not imagine a better platform for photography in the bush.
What is not as obvious in the online description is that the vehicle comes equipped with Stu Porter, the Wild4 owner and guide. Stu is a deceptively shy young man with an encyclopaedic knowledge of Kruger National Park and the eyes of an eagle!
Stu's knowledge and patience are seemingly infinite and he is aware of both of his passengers' needs and everything around us. He does everything humanly possible to provide the opportunity for the best shot and what's more, he can instruct even the most seasoned photographer on technique.
In short, Wild4 Photographic Safaris is all about the vehicle, with spacious seats, shooting platforms and Stu Porter as standard equipment. You can't do better.
Thank you, Stu!
John & Marie Holding AUSTRALIA
Our 14 days with Wild4 Safaris was the best learning experience we have ever embarked on. We were totally immersed in the world of wildlife photography, in the best place in the world, with one of the best pro photographers around. Stu genuinely enjoys sharing his knowledge and passion for wildlife and photography. It was an unbelievably rewarding learning experience, raising our skill levels significantly.
Stu and his team were able to teach us about our equipment and the application of new skills. This sharing of skills, along with the excellent booklet (which became Marie's bible) is world-class. It ensured we got to places that others didn't and that we were always in the best position to shoot. Stu didn't disappoint and was able to put together some memorable opportunities to get many excellent shots.
The whole package was first class, from the pickup, through accommodation, food and day trips, to the people (now friends) who we met on the trip. This is one of those bucket list adventures that we will be doing again with WILD4.
Peter Farmer UK
Thank you Stu for such a memorable photo safari.
WILD4 provided a totally professional service, from the pre-safari preparation to the sighting and photographing of so many animals and birds. At all stages, your team provided first-class support and advice. The package you provide is superb and that is why I am booking another safari with you.
Michael & Toni Anderson USA
On our second safari with Wild4, we returned with a good friend doing her first trip. To say the three of us had a blast would be to underestimate the experience.
Once again, we were thrilled by the variety of sights and opportunities presented to us, things that much more seasoned safari-goers have probably never witnessed.
But perhaps the best part of all was being back with friends whom we know and trust. We know a good thing when we experience it.
When we are ready for our next African adventure, you can bet we will contact the Wild4 Team.
Doug Croft USA
I found Wild4 through an article in Popular Photography magazine. I saw that Stu and Wild4 offered the kind of experience that I wanted:
Small groups of dedicated photographers.
Variety in wildlife viewing.
Tuition on photography and wildlife behavior.
Good communication and organisation.
I can say that Wild4 met and exceeded all expectations on all points.
We used one vehicle for three photographers. Being a trained photographer himself, Stu always got us into the best position with the best light. Three on the tour meant plenty of room for equipment and the ability to shoot from either side of the vehicle.
The three places we visited, each provided a unique experience and wonderful variety in scenery and wildlife viewing.
Stu's tuition was excellent but never pushed. Tips, reminders, anecdotes, all given with patience and good humor.
From the first email, the communication was timely & clear. Justyna was a joy to work with.
Wild4 didn't provide the wildlife or the spectacular sunsets that we experienced, but they put us in a position to enjoy and capture them with our cameras and in our memories. Our safari was amazing and I would not have changed a thing.
If you're looking for a Photo Safari, there is nothing to consider. Just go ahead and contact Wild4 Photographic Safaris. You will not be sorry.
Rob Pelle NETHERLANDS
After 2 previous safari attempts were cancelled, I looked around and found Wild4. Justyna was extremely helpful in putting together a tailor-made tour just for me.
I tend to shy away from flash but during a night shoot, I quickly learned a great new technique and the photographs turned out wonderful. In short, Wild4 Photographic Safaris is the one you want to book with to get the best opportunities.
This is not the last time I will make use of their services. Thank you Justyna & Stu for a wonderful time.
Helen Clarke AUSTRALIA
This was my third photographic trip to Africa, and I have to say the best! Stu has great knowledge & passion for wildlife and photography that he is willing to share: I certainly learnt a lot. The setup for photography in the vehicles is extremely well thought out.
There was an amazing variety of great photographic opportunities and I really enjoyed time spent with the animals. I am very pleased with the results!
After coming away with renewed enthusiasm for photography, I am planning to do another trip with them soon.
Linda Cappello AUSTRALIA
I recently did a Wild4 trip with a friend, which far outweighed our expectations. Wow, what a trip!. Stu has extensive knowledge of the animals and their habitats and was always mindful of us getting the best shots possible. We had our own bench seats which was great as we both had plenty of space for our equipment. Each vehicle has beanbags to steady your camera/lens, pockets and enough room to take a camera bag. I loved that we could sit and watch lions at Mala Mala play in the Sand River, it was a fantastic opportunity.
Stu provided us with some great tuition and I learned a lot of new photo techniques. We had many opportunities for night photography, silhouettes, time-lapse, low light etc.,
I would highly recommend the Wild4 Team for your next photographic safari, you will not be disappointed.
James Smith USA
We recently joined a Wild 4 African Photographic Safari. To put things simply, we were completely blown away. Compared with others I've been on, this exceeded anything we had imagined, in so many ways.
Justyna handled all our travel and trip details with exceptional professionalism and always responded to even our most basic questions quickly and in a very detailed manner. We were met by our photo guide Stu Porter, who I cannot say enough good things about. His spotting ability and anticipation, together with his understanding of animal behavior and the ecosystem, produced an amazing wildlife experience. He went to great lengths to ensure that we had the best chance of capturing a great photo, without compromising the rules of the park or the integrity of the animals. This made the trip so much more than just a "drive around and snap at whatever we see" kind of experience.

In all honesty, I can't imagine a better guide than Stu Porter. We will be doing our future trips to Africa with Wild 4 and cannot recommend them highly enough. Thank you so much for what a lot of people call "the trip of a lifetime", although we feel that this is only the beginning of many trips of a lifetime. Thank you, Wild 4!!