Okavango Delta, Savuti & Chobe River - June 2019
Botswana Photo Safari
Posted on 11th October, 2021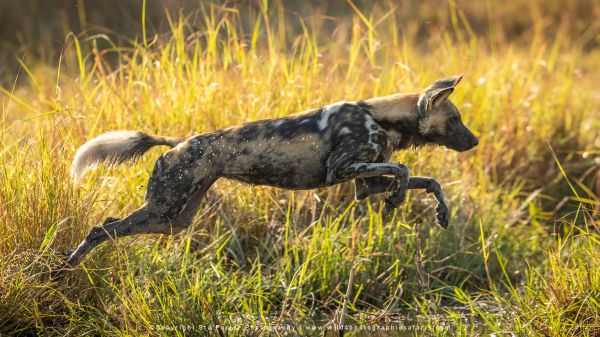 The weather was just as clear as the May trip but a bit cooler in the evenings and early mornings.
We flew from Maun into the Okavango Delta to be met by our guides. Our camp was all set up for our late afternoon arrival and dinner was enjoyed whilst listening to the sounds of the African bush.

Some of the photo highlights in Moremi Game Reserve were, a leopard with a small cub, Cape Hunting Dogs at a den site, male lions on a giraffe kill, a leopard hunting impala, a pair of Side Striped Jackals, the endangered Wattled Cranes and other great birdlife.

Our mobile camp moved on to a site along the river in the Khwai Concession. Here we were fortunate to see more Cape Hunting Dogs, Leopard, Lion, Sable Antelope, Giraffe, Zebra and a very special night sighting of the rarely seen Pel's Fishing Owl - thanks Amy :). We also got to see two Cape Honey Badgers foraging in the daylight.

Our third camping location was in the Savuti area of the Chobe National Park. Marabou Pan continued to provide a lot of activity with lots of elephants, Blue Wildebeest and lions from the "Marsh Pride". We also saw Roan Antelope, Yellow Mongoose, and all 4 species of Hornbill.

Camping over, the final section began with a 40-minute flight on MacAir from Savuti to Kasane. Here we spent 3 nights at the Pangolin Chobe Hotel with exclusive use of one of their amazing photo boats. This mobile "hide" allows you to get very close to both birds and mammals. Some highlights from the Chobe River were Chacma Baboons, Malachite Kingfishers, the rare Half Collared Kingfisher and a juvenile White Backed Night Heron (my first sighting of one). Sunsets on the water were awesome and a full moon setting over the river early one morning was spectacular. Top highlight was photographing a herd of around 50 elephants swimming across a wide channel to the Namibian side of the river. What a wonderful end to a fantastic Botswana photo safari!

MASSIVE thanks to the Letaka Camp Staff Team. To chef KK for the amazing food and to Names, July and Wilfred for looking after us so well in camp!! Without excellent guides, we would not have been in the right places at the right time to get some great photos. Thank you "Shado" and Lucas, for your wonderful skills and for being so patient with us. To our Boat Captain, Smart - thanks again Smart for an excellent 3 days, it's always a pleasure working with you. Thank you to all the staff at the new Pangolin Chobe Hotel, we had another brilliant stay with you.

To our fantastic clients, Bruce, Sheldon, Linda, Amy and Meg and especially Don, who put in a lot of hard work to get a great group of friends together, it was great to share some of Africa's special treats with you all.
Enjoy some photos from the trip! Best wishes , Stu