Amboseli, Ngorongoro Crater, Serengeti & Ndutu - March 2022
Photo Tours to Kenya and Tanzania
Posted on 21st April, 2022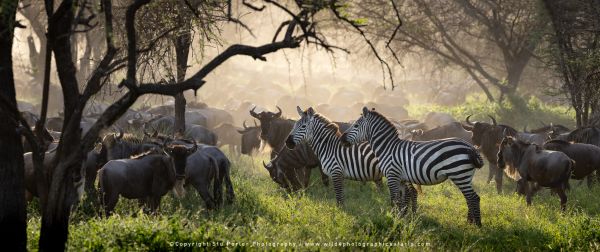 After waiting patiently for travel to open for two long years, we have successfully completed the 2022 photo safari to Amboseli in Kenya and the Ngorongoro Crater, Serengeti and Ndutu in Tanzania.
The combination of locations on this safari always results in a very photo productive trip. This year was no exception, and we had excellent sightings at all the reserves we visited. Each place offers something different, and you never feel that you are duplicating anything.
Amboseli is known for its fantastic Elephant sightings with the snow-covered Mount Kilimanjaro as the backdrop. On this year's visit, we saw terrific numbers of Elephants. We were also treated to multiple Lion sightings, thousands of Flamingos, Grey Crowned Cranes, Hippos fighting, stunning sunsets, and even an African Rock Python.
After successfully navigating through the Namanga Border Post, we reached the beautiful Ngorongoro Crater in the late afternoon. We soaked in the magnificent views of the Crater floor from the Serena Lodge. Our three drives in the Crater provided an enormous number of animals like Wildebeest, Buffalo, Eland and Grant's Gazelle, to name a few. This is the best place to see the endangered Black Rhino, and we saw a number of them. We were also treated to a great sighting of a Serval Cat, Lions, a Kori Bustard in display and an enormous Bull Elephant with magnificent tusks.
Central Serengeti was our next stop on the trip, and our first sighting was of a female Cheetah with two cubs. All three climbed up a fallen tree to get a good view over the tall grass. We also saw two different Leopards, a female and a huge male. Finally, our drive through the extensive and beautiful Gol Kopjes resulted in two incredible Lion sightings. Seeing Lions on the Kopjes is a memorable encounter, and the Serengeti is famous for this.
The last stop on our tour was the very productive area of Ndutu. This place never ceases to provide some great encounters and photographic opportunities. The massive migration herds were still based around Ndutu, and we were treated to one of nature's spectacles. Seeing is believing, and the only way to grapple with the sheer numbers is to be out amongst the herds as they move and feed. The sounds are incredible too. Ndutu is an excellent location for lions, and we photographed several different individuals. Bat Eared Foxes, Chameleons, Vultures, Fish Eagles, a dead Elephant, male Cheetah fighting and thousands of herd animals around the marsh and at the Hidden Valley kept our cameras busy and our memory cards full.
Many thanks to our guides in Kenya, Mamai and James, who showed us a wonderful time in Amboseli and Arnold and Wilfred, who showed us the best that Tanzania offers. It is always a pleasure working together with you all, and thank you for all your hard work. A huge thank you must also go to the staff at all the Camps and Lodges we stayed at.
Thank you to Rita, Sharon, Bob & Jeannie for joining us on this safari and making the massive effort to travel to Africa. It was an honour to share the incredible sightings with you all.
Enjoy some images from this WILD4 Amboseli, Ngorongoro Crater, Serengeti and Ndutu Photo Safari.
Best wishes,
Stu.