The Great Migration - August 2019
Masai Mara Photo Safari - Kenya
Posted on 16th October, 2021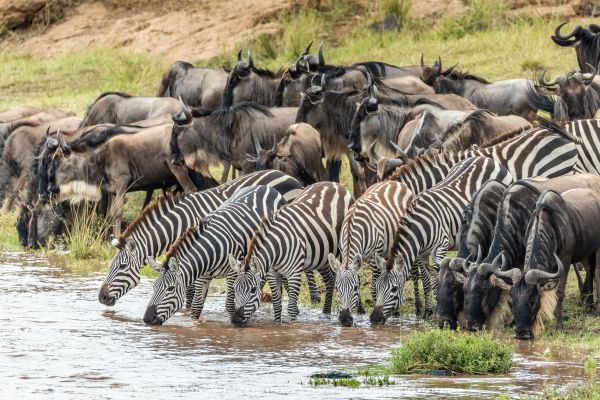 This Great Migration Photo Safari provided a number of Mara River Crossings. The mega herds were scattered and the majority of them were feeding on fresh grass along the Tanzania / Kenya border. However, they did cross at the main points in front of Serena Lodge.
There was some good Big Cat action too. We had fantastic sightings with Cheetah, including two kills. We met a handsome male lion and we also spent time with a female leopard and her cub.
Elephants were in good numbers and we had a very rare encounter with a baby Leukocytic Elephant, the first one I have seen in the Mara. Distinguishing features of a Leukocytic Elephant are white hairs on the tail, eyelashes and body hair as well as pink skin on the back of the ears. Their skin colour is also lighter than a regular Elephant.
We also enjoyed fantastic sunrises and sunsets which the Mara is so well known for.
To our guides, Mamai, James & Nicholas, your patience with us did not go unnoticed. Thanks so much for showing us some special sightings! To Thomas, from Fact Safaris who arranged all the tour logistics - your work is vital to a successful tour and really appreciated.
Thank you also to the camp staff at Entim Mara and Mara Bush Camp for your care and attention. Finally, thank you so much to Peter, Jody, Linda, Raj, Alan & Eileen for joining us on this year's Great Migration African Wildlife Photographic Safari to the Maasai Mara in Kenya.
Enjoy some photos from the trip.
Best wishes,
Stu.