Big Cats of the Serengeti - Sept/Oct 2019
Serengeti Big Cats Photo Safari - Tanzania
Posted on 17th October, 2021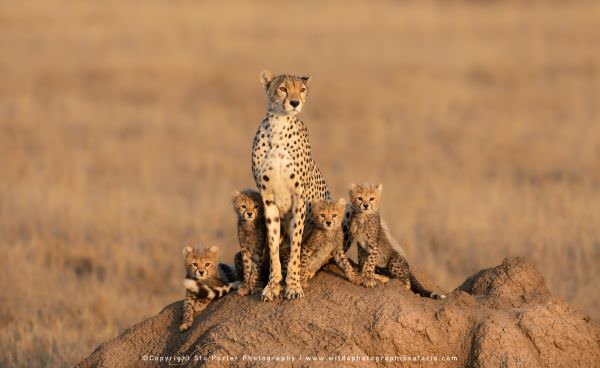 The Serengeti in Tanzania is one of the top places in Africa to photograph Lion and Cheetah. It's a vast place and one always feels very privileged seeing and photographing the Big Cats in this enormous area. The trip was split between the Central Serengeti around the Research Kopjes area and the magical "Ndutu" area near Lake Ndutu in the Ngorongoro Conservation area.
We spent a morning photographing two magnificent male lions as they patrolled their territory and also had a good session with a lioness and her two cubs on one of the iconic "Kopjes" or rocky outcrops that are synonymous with the Serengeti.
We also had one of the very best cheetah sightings I have ever experienced. Our guide, Jeremia spotted a mother with four very small cubs, in that special early morning light. We followed this family as the mother led them from one termite mound to the next, surveying the area for prey. Finally, she brought down a young Thompson's Gazelle and took her prize back to her hungry cubs.
These photo. ops., were taken to the next level, when we came across a very rare Black or Melanistic, Serval. WOW, what a way to start the trip! On the following morning, our other amazing guide, Arnold, spotted an African Porcupine! This very secretive and nocturnal creature was walking about in the glorious morning!!
With some great Serengeti shots under our belt, we headed South via the Gol Kopjes to that very magical place, Ndutu, along the border of the Serengeti National Park and the Ngorongoro Conservation Area. Here one can drive off-road, allowing quality time with the animals and the flexibility to position for the best light.
Some Ndutu Highlights included spending time with the Marsh Pride who were up to 17 members, Black-Backed Jackal puppies, Bat-Eared Foxes, 4 different Serval Cats, a Caracal hunting Guineafowl and one of Africa's rarest animals, a Pangolin or Scaly Ant-eater. The cheetah encounters were exceptional, with three kills and a total count of 12 individuals.

This safari exceeded my expectations, for great photography, and for providing that wonderful feeling of the true African wilderness. There were very few other vehicles, and a lot of the time we were totally on our own. It's wonderful to share a short period of these animals' lives and appreciate what it takes to survive in this harsh environment. There is no other place I have been, that offers such quality Big Cat sightings, observations and photographic opportunities. We will definitely be adding this location to our photographic safari list of destinations and I am already looking forward to the 2020 "Big Cats of the Serengeti" Photo Safari.

I would like to thank all the staff at both Mawe Tented Camp in the Serengeti and Ndutu Safari Lodge in Ndutu for looking after us, as well as a very special thanks to the two amazing guides we had for this trip, Arnold & Jeremia!! It is a great pleasure working with you guys. Your awareness of what is needed to get great shots, without disturbing the animals' comfort levels, makes a real difference.
Thank you, Linda, Bernice and Frank for joining us again on another WILD4 Tour and the first "Big Cats of Tanzania" Photographic Safari.

Please enjoy a selection of images from this photo safari.

Best wishes,

Stu,